Welcome to 360 Real Estate DFW - The home of Full-Time Realtor Oleg Sedletsky.
Helping with your Real Estate needs in the Dallas-Fort Worth area.
DFW Real Estate Newsletter
Featured Real Estate Properties in the DFW Area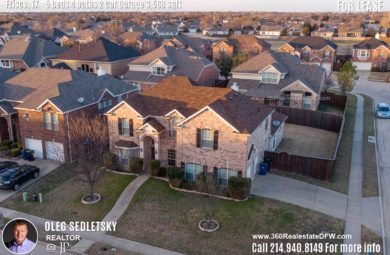 Great Family Home For Rent in Frisco, TX. $2,500 per month. 5
VIEW DETAILS
Congratulations! Buying or Selling your real estate just got easier.
Hi, my name is Oleg Sedletsky, and I am a full-time Realtor and licensed at the JP & Associates Realtors.
Whether a Home, Investment Property, Land/Lot, Commercial or Farm/Ranch in North Texas, I am committed to providing you with outstanding customer service along with an innovative approach to buying or selling property/home.
My commitment is to help you to achieve your real estate goal quickly while providing you with an enjoyable experience.
Let's do business!
Contact me today to ensure a personalized real estate experience that will make the process of buying and selling quick, comfortable, and satisfying.
Comprehensive Marketing Solutions For Selling Real Estate in DFW
Selling Real Estate in the Dallas-Fort Worth area?
Thinking of selling a house, investment property, land/lot, commercial or farm/ranch in North Texas?
I look forward to helping you sell your property quickly and for the best price!
Explore my comprehensive marketing solutions. These solutions are included with my services when you sign the listing agreement with me.
Marketing Your Real Estate For Sale in the Dallas-Fort Worth area
My commitment is to help Sellers - Oleg Sedletsky, Realtor. 214.940.8149
When selling, marketing is everything!
My IT marketing and media production background give you an advantage when it comes to real estate marketing. Upon signing the listing agreement, you will automatically receive options that will make your property stand out.
Real Estate Photography and Video

Did you know that surveys have shown that buyers value high-quality visual material that they can easily access and look at when searching for property?
For my clients, I provide high-quality images, video, and virtual tours that will capture the attention of every potential buyer.
Due to my years of experience as a Real Estate Photographer, I am an official Zillow Select Photographer. Also, I own 360 Photo DFW Media Production Company that ensures that you will be getting quality production value and stunning media to show your potential buyers.
When you choose my real estate agent services to sell your property, I will take a full and expert suite of professional quality Property Photos of your home. Also, because I own a production company, I will produce a video that features your property. Creating these videos myself is one of the things that makes me unique among other agents.
With me as your agent, I will include professional quality photos and videos featuring your real estate property with every listing.
Real Estate 360 Virtual Tours, 3D Home

Did you know that more than 70 percent of first-time home buyers are millennials? Surveys show that millennials consider 3D media to be as important as open houses.
Well, I've got great news! 360 degree real estate photography and 360 degree real estate video is one of my specialties.
It's also important to recognize that a large percentage of buyers are shopping from a distance. For those buyers, having virtual tours is invaluable for them when it comes to saving time and money.
Fact: Listings with a 3D Home will get more exposure to buyers on Zillow and Trulia.
As a Zillow Select Photographer, I will create Virtual Tours to showcase your property to potential buyers and give them the feeling of being right there on site.
With me as your agent, I will include a 3D Home Virtual Tour featuring your real estate property.
Immersive Marketing
A unique website will be created and will feature exclusive information about your property. Having a dedicated property website helps to sell your property faster.
Social Media Marketing is another critical component that you can expect when selling your real estate property with me as your agent.
Using the latest trends in Social Media Marketing, I will promote your property on Popular Social Media platforms.
With my photography, video, and 3D Home virtual tours, your home will enter the market at the best competitive position possible.
I will market your property on MLS Listing, Zillow.com, Trulia.com, Realtor.com, and other major real estate websites. Social media marketing includes Facebook, Youtube, Instagram, etc.
Looking to Buy a Real Estate in the Dallas-Fort Worth area?
My commitment is to help Buyers - Oleg Sedletsky, Realtor. 214.940.8149
Whether it's your first home or a move to a larger house, as a full-time Real Estate agent, I'm here to help.
Buying Tip
As you begin, many considerations go into choosing the right property in the perfect location. Here are questions to think about that will make your decision process easier.
What are your most essential criteria when it comes to location? Consider things like schools, neighborhood amenities, shopping, acreage, etc.?
What is your preferred condition of the home? Are you looking for a fixer-upper or something that is turnkey?
How much square footage do you need?
How many bedrooms/bathrooms would you prefer?
Do you want a pool on your property or will a community pool in the subdivision be suffice?
How long are you planning to occupy the property?
Do you have a specific move-in deadline?
What is the loan amount that you are qualified for?
Can you be pre-approved for a loan?
My goal is to help you find the right house that you can make into the perfect home.
I am eager and excited to hear from and partner with you!
New Construction Opportunities in the Dallas-Fort Worth area
My commitment is to help Buyers - Oleg Sedletsky, Realtor. 214.940.8149
Looking to buy a New Construction Home in the Dallas-Fort Worth area?

I will help you to locate your new construction home in Lucas TX, Prosper TX, Celina TX, Anna TX, Frisco TX, Princeton TX, Melissa TX, McKinney TX, and other cities in the DFW area.
You don't have to pay me anything. Just pick your desired location, and I will do the rest. Based on your criteria, you will receive personalized reports with the new construction homes that are available for purchase.
With new Construction Homes in some markets there are variety of incentives for buyers may be available. But very often the incentives are not advertised.
Below are just a few examples of incentives that may be available:
No closing costs
No payments for three (or more) months
Lower-than-market interest rates
Upgrade all appliances
Free Landscaping
Builder will pay property taxes for first year (or more)
Gift card of $250 to $5,000
Price cuts up to 10 percent on some new homes
Choose me, Oleg Sedletsky as your buyer agent and I will make sure you get all available incentives when you buy a New Construction Home in the DFW area!
Want to build a Custom Home in the Dallas-Fort Worth area?
My commitment is to help Buyers - Oleg Sedletsky, Realtor. 214.940.8149
I will help you find the best custom home builder!
Building a Custom Home in the Dallas-Fort Worth area could be your perfect opportunity to choose the desired location and have the house that reflects your needs and facilitates the enjoyment of owning the property.
Be aware that not all builders are the same! With my knowledge of the custom home building process, I will communicate with the builder on your behalf with your interests in mind.
Want to purchase LAND in the Dallas-Fort Worth area?
My commitment is to help Buyers - Oleg Sedletsky, Realtor. 214.940.8149
Are You In The Market For Purchasing a Vacant Lot/Land?
Land is an exceptional property class that opens doors to a personal vision. It's relatively easy to show a carpenter a workshop full of every tool imaginable and see their eyes light up.
However, it's a more significant challenge to help a buyer or seller to realize the potential in an empty piece of land. Let me help you create your vision in the Allen, Frisco, McKinney, Plano, Prosper, Celina, Lucas, and Fairview real estate markets.
When purchasing a Land/Lot it is imperative to understand local zoning and land use restrictions.
Call or email me to start a discussion about your plans. Or, fill out quick form to tell me your property interest types and give me an overview of your needs.